GIADA is the acronym for a project aimed at an integrated environment administration in the Valle del Chiampo's tanning district, as a response to the need for preserving the district's remarkable naturalistic heritage.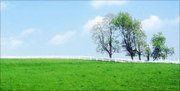 Nearly 800 companies manufacture bovine and calf leathers being employed in the furnishing, shoe and clothing industries, with a yearly turnover of over 3 billions euros.
The GIADA project is working in synergy with the existing, well-tested productive system with the purpose of preserving ecosystem integrity and equilibrium, for a global life quality improvement.
Last update on 28/09/2023